Auto callouts
Strata and multi unit specialists
Salting, sanding ice melts
Before after photos
When it comes to winters in Canada and the U.S., battling the snow can be tough.  It's Snow Removal & Salting season and a really good excuse to stay indoors as much as possible!  Now imagine your business or multi-family residence could offer a safe environment, regardless of the weather.  With Gorilla Property Services Snow Removal & Salting you can do just that without ever having to set foot outside.  Our program typically runs from December until March focusing exclusively on commercial properties, Stratas, Co-Ops, apartment buildings, etc.  We tailor our service to your property's particular requirements offering Snow Removal & Salting in the following locations:
Snow Removal & Salting for Slip Prevention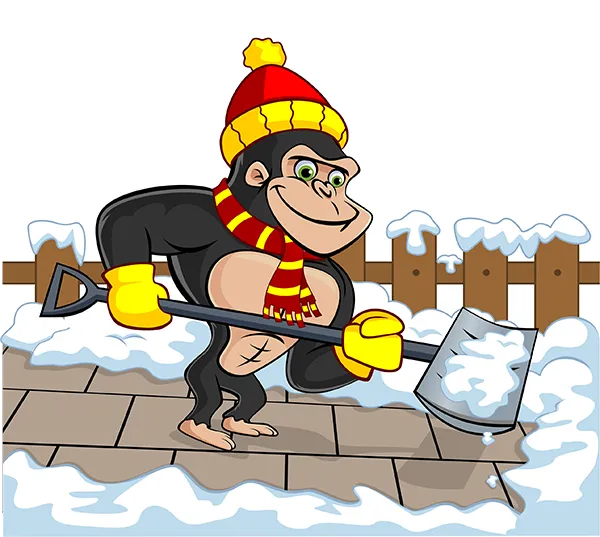 Slips, trips and falls are the most common type of accidents in everyday life.  Most of us have taken a minor tumble at some stage, for one reason or another.  These incidents usually result in nothing more than bumps and bruises.  However, during the winter months, thousands of people are hospitalized every year for more serious injuries caused by falls due to icy conditions.  The majority of these cases are Canadians over the age of 50.  Outdoor surfaces, such as parking lots, parkade entrances, sidewalks and walkways become slick and dangerous in winter weather.  These areas are the leading cause for slip and fall accidents.  When you bring Gorilla Property Services' Snow Removal & Salting in to play, this need never worry you again.
Snow Removal & Salting You Can Count On
"Why pay for a service I can take care of myself?" I hear you ask yourself.  Well, let me tell you why.  Successful Snow Removal & Salting requires constant preparedness.  Our winters are erratic.  It only takes one missed frost or snow warning for the common areas of your property to become a hazard.  Our fully trained and licensed Gorilla technicians show up the night prior to predicted frost or snow.  They methodically salt walkways, landings, parkade entrances and any other exposed section that may put you or the public at risk.  We can even salt your entire parking lot with the help of our 'Gorilla Mobile'.
When the snow comes, our Gorillas creep back in the early hours of the morning while everyone sleeps.  Where possible, snow removal is carried out with shovels.  This guarantees every corner has been checked and helps us *whispers* keep the noise down.  The most sound you'll hear from us will be our mechanical blowers, but only when absolutely necessary.  Our technicians' main aim is for your residents to wake up and get to their cars safely.  We want your customers to have sound access to your business.  We want the only proof of us having visited to be the first rate result of our Gorillas' hard graft.  And should a night owl or early riser happen upon one of our Gorillas on the job, don't worry!  Professionally uniformed on every visit, our technicians are instantly identifiable.  And that's not even the end of it!  On our technicians' arrival, there are certain details you can expect from our 'Gorilla Guarantee':
All our work is covered with CGL insurance of $5 Million Inclusive
All our work is performed according to Regulations
Same day 'before & after' pictures are sent to property managers and/or councils for their records
We send detailed monthly invoicing and updates directly to property managers
If you own or manage a commercial or multi-family property anywhere in the United States or Canada, you have a year-round duty of care to the people who make use of that property.  By deploying our fully trained and licensed Gorillas to tend to your Snow Removal & Salting needs, you're letting the public know their well being is a priority for you.  Why not do this from under your duvet while we take care of those pesky late nights and early mornings.
* Snow Removal and Salting services not available at all locations. Please contact your local Gorilla to confirm availability.