Auto callouts
Strata and multi unit specialists
Salting, sanding ice melts
Before after photos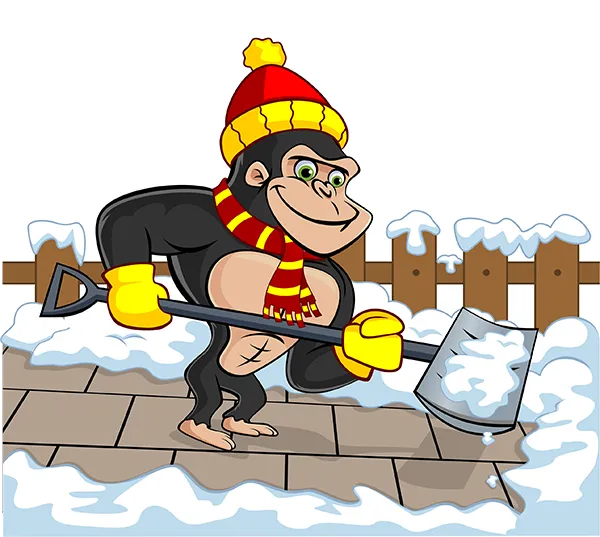 There is always something to do within the Greater Toronto Area, but snow removal is hardly the most fun of these. Instead of spending your time with a shovel, let our Gorillas help you enjoy the winter wonderland that you deserve. A proper Etobicoke snow clearing and salting helps you get your mind out of the snow drift and back to more important matters.
Suffering Through Snow
The Etobicoke community receives some of the highest snow fall in the GTA, so it is no wonder that our Gorillas are kept busy. It is not uncommon to wake up in the morning to find a coating of snow or a newly formed patch of ice around your space. Instead of simply dealing with the inconvenience, you can ignore it all together! By calling our Gorillas for your Etobicoke snow clearing and salting, you can rest easy while you property is cleared of snow for you.
Having snow or ice around your commercial property can be more than a minor nuisance. All it takes is one slip or fall to create a big problem for you or to stop your customers from coming back. Instead of taking the risk, have our Gorillas create a safe environment for yourself, your visitors and your clients.
Etobicoke Snow Clearing & Salting: Planning Ahead
There is no set way to predict the future but there is a way to make educated guess about that is in store for your community. By following weather patterns, our Gorillas can predict just how much snow our community is going up against. Once we have an idea of just how much snow we are dealing with, our Gorillas prepare to clear your space accordingly. Large vehicles can be used to clear away large areas like parking lots while residential spaces are more often performed by hand. Snow blowers can be used during daylight hours but for those night-time call outs, shovels are the only way for our Gorillas to keep quiet. With this range of tools, our Gorillas can service residential, commercial and multi-unit properties.