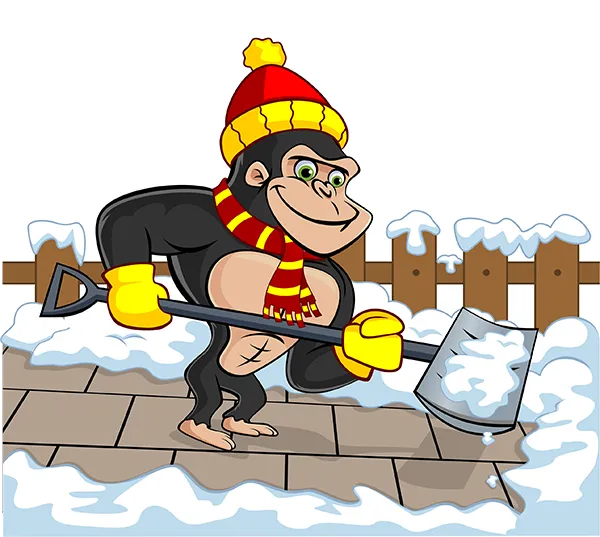 Winnipeg is known around the world for two things: being the Slurpee capital and it's harsh winters! The city itself can see wind chills in the negative 30's – 50's so it is no wonder residents are not happy when it is time to shovel! Instead of fighting off the cold on your own, call our Gorillas for your Winnipeg snow removal and salting.
Over 100 centimetres of snow falls over the city every year. These flurries can come down in small increments or in large-scale storms, but in either case, it is no picnic! Our Gorillas are always monitoring the weather forecasts in order to be prepared for whatever comes your way. In the prairies, the majority of snowfall occurs at night when the weather is coldest. In addition to having a thick skin, our Gorillas are always looking forward. Day or night, our Gorillas are prepared to take care of your Winnipeg snow removal and salting in every way possible. You will never have to worry about being woken up by our Gorillas, you can rest easy!
Winnipeg Snow Removal &  Salting: Standing Out From the Crowd
Waking up to find strangers on your property in the middle of the night can be scary, but our Gorillas stand out! Every one of our technicians are outfitted with brightly coloured uniforms and vehicles. As early as October, temperatures begin to dip well below freezing and can stay that way until April. That is a long stretch to be outside shovelling every day! Lucky for residents, our Gorillas love being outdoors!
Changes in temperature throughout the days and weeks melt and re-freeze snow. This process creates large patches of ice on sidewalks, driveways, roads and steps. Every year hundreds of Canadians are injured by slipping and falling on ice. With our Winnipeg snow removal and salting in your corner, you can kick that ice to the curb!
Call us at 204-202-4921 to learn more about our Winnipeg Snow Removal services!