Auto callouts
Strata and multi unit specialists
Salting, sanding ice melts
Before after photos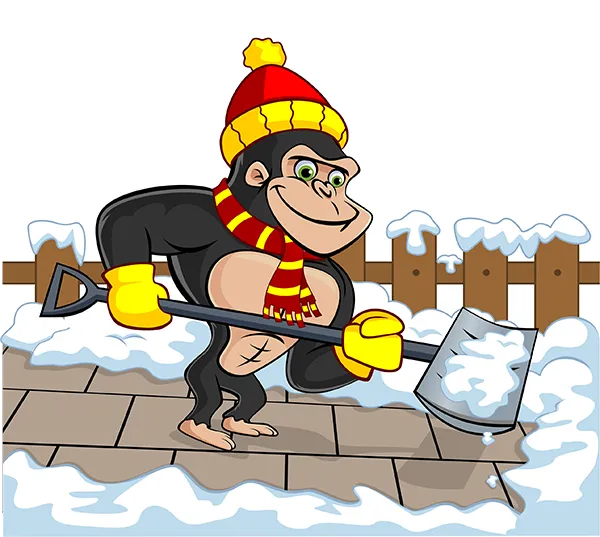 Even in a city the size of Toronto, a large snow fall can bring the city to its knees. Dumps of snow can clog up streets, cover properties and make sidewalks impassable. It doesn't matter if you have a residential or commercial property, snow slows you down in either case. If you are too busy to be trailing behind, our Gorilla technicians can keep you up to speed. A proper Toronto snow removal and salting is only a phone call away.
Managing Winter Madness With Sanding & Salting
Keeping control throughout winter can be difficult. You might be cold, you might be frustrated but you are not alone! Instead of battling against the cold weather, embrace it with our Toronto snow removal and salting. There is no property that would not benefit from a Toronto sanding and salting service. Instead of being reactionary, our Gorillas are precautionary. We plan ahead in order to accommodate the needs of our clients. When you enlist Gorilla technicians for regular maintenance, you do not have to worry about being overwhelmed when you wake up! Gorilla technicians keep an eye on incoming cold fronts and storm patterns in order to better serve our clients.
How A Gorilla Performs Your Toronto Snow Removal & Salting
The key to any successful property maintenance service is knowledge and experience. Removing snow and ice is not as cut and dry as it may seem. For example, methods that work for single dwelling homes might not be effective for strata properties and what works for stratas might not work for commercial space. Luckily, sanding and salting can be made to fit your property. Gorillas always consult with clients before creating your Toronto snow removal and salting plan. Our Gorillas are available to move silently at night around residential properties or with large-scale tools around commercial properties. Whether it is a shovel, snowblower or plow, our Gorilla technicians can find the right method to treat your space.
Salting is a key component to keeping a happy, healthy household throughout winter. Just throwing down salt on icy surfaces does not do the trick. Areas of high melt are particularly problematic for ice on your property. By addressing these areas head on, our Gorillas can keep your property clear of ice.