Auto callouts
Strata and multi unit specialists
Salting, sanding ice melts
Before after photos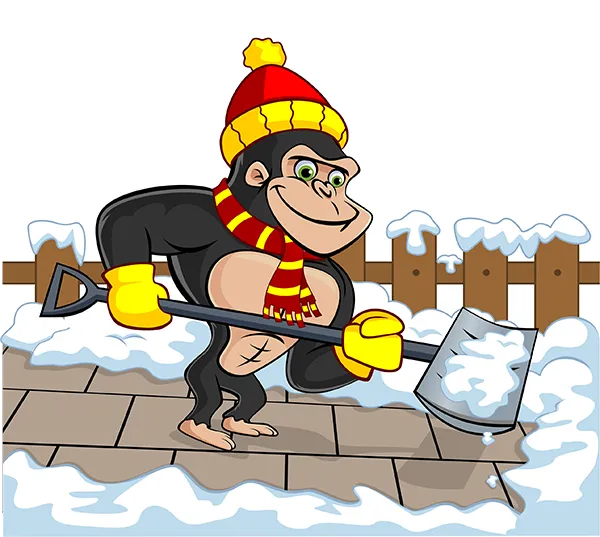 Canada might be known for its cold temperatures and winter sports but a large snow fall is enough to bring even a city the size of Toronto to its knees. Unexpected dumps of snow can clog up streets, cover properties and make sidewalks and driveways impassable. It doesn't matter if you have a residential or commercial property, winter maintenance can be a breeze with our Toronto snow clearing and salting services. If you are too busy to be trailing behind, our Gorilla technicians can keep you up to speed on upcoming weather conditions and storm fronts.
Managing Winter Madness
There is no need to describe the hazards of a snow-clad property. As snow begins to pile over itself, navigation becomes increasingly difficult. Heavily covered areas can also deter foot traffic and increase the chances of slips and falls by covering ice. Managing snow fall and ice formations can also be difficult depending on the size of your property, time constraints and physical ability. Every year, dozens of residents are sent off for doctors visits based on strains, sprains or slips cause by basic snow removal practices. Don't bother taking the risk when there is always a Gorilla available to help.
Keeping control over your property throughout the winter can be difficult. You might be cold, you might be frustrated but you are not alone! Instead of battling against the cold weather, embrace it by enlisting professional snow clearing services. Because each property has its own unique benefits and problem areas, our Gorillas offer differing levels of services depending on your needs. It isn't uncommon to pass through residential streets to see the odd shovel push snow from one area to another. This system might work temporarily for lighter dustings, but it is not enough to keep properties snow-free. With weather in the Toronto area being increasingly unpredictable the only way to keep snow from accumulating is through routine!
Our Gorillas offer snow clearing services on a reactionary or regular basis. By working together to create a schedule for weekly or monthly treatments of your commercial snow clearing services. When you enlist Gorilla technicians for regular maintenance, you do not have to worry about a nasty surprise when you wake up! Gorilla technicians keep an eye on incoming cold fronts and storm patterns in order to better serve our clients. When bad weather strikes, our Gorillas are available for emergency call outs 24 hours a day.
How A Gorilla Performs Your Toronto Snow Removal & Salting
Property owners might rejoice as temperatures begin to warm, but it can create a lot of stress surrounding safety concerns and health hazards – namely ice! As temperatures ping pong back and forth over the freezing point, melting ice and snow becomes a very real issue. As snow melts little by little, it allows water to pool and refreeze overnight, creating a tiny skating rink! Throwing down a handful of rock salt is not enough to create a safe space for visitors. The key to any successful property maintenance service is knowledge and experience. Removing snow and ice is not as cut and dry as it may seem. For example, methods that work for single dwelling homes might not be effective for strata properties and what works for stratas might not work for commercial space. That is why our Gorillas consult with clients before creating your Toronto snow clearing and salting plan.
Our Gorillas are available to move silently at night around residential properties or with larger-scale tools around commercial properties. Whether it is a shovel, snowblower or plow, our Gorilla technicians can find the right method to treat your space. Salting is a key component to keeping a happy, healthy household throughout winter. Just throwing down salt on icy surfaces does not do the trick. Areas of high melt are particularly problematic for ice on your property. By addressing these areas head on, our Gorillas can keep your property clear of ice.
When you need help keeping your property snow and ice free, call Gorilla for our Toronto snow clearing and salting services.