Identify the tag (examine the substrate)
Flag off the area
Remove graffiti with eco-friendly solutions
Pressure wash the area clean
Apply anti graffiti topcoat to prevent against future tagging
Before and after photos – no damage to property, restore it to new
If you find yourself on our Graffiti Removal page, it's probably for one of two reasons. Either you have been hit with some form of a graffiti "tag" or you want to know how to prevent graffiti tagging and from ever having to visit this page again. Well, you're in the right place so let's get down to business.
Our Experience and Expertise
Graffiti Removal in Canada is an art form perfected by our Gorilla Technicians. We restore areas that have been hit with graffiti and eliminate any leftover shadowing, so your property looks brand new again. The cleaning compounds we use are eco-friendly and non-corrosive meaning no damage to the surface being treated regardless of the material in question. All of our products are made here in Canada and are listed in the full M.S.D.S. report carried by each of our technicians at all times. Our highest call volume for Graffiti Removal is in the summer and spring, we provide a multitude of solutions to fit your needs, simply check out our Pressure Washing Page for more information!
Vancouver is the busiest areas for Graffiti Removal
Graffiti removal Vancouver keeps our Gorillas busy, that's for sure! There's no knuckle dragging here! Our most common calls are from businesses of all sizes that have been tagged with graffiti on the exterior of their buildings. We understand that the look of your property from the street is a reflection of your business as a whole. Consumers tend to judge on curb appeal alone. If the outside of your store is riddled with graffiti, potential customers might assume the owner has low standards of cleanliness in general. This could give the impression the premises and products offered may not be up to par with their expectations. Our services can start with something as small as removing marker from bathroom stalls, all the way up to a full graffiti tag on the exterior walls. Both of which can make a huge difference to the aesthetics of your business.
Call an Expert Graffiti Removal Company in Canada
Large cities with a large population usually which means graffiti is common. With the residents of the downtown core providing our highest call volume, we make it our business to know which areas may have a greater need for our graffiti removal service. If your business happens to be in an area where Graffiti tagging is common, you should visit our Graffiti Prevention Page for tips and tricks. There are products we can apply to make regular maintenance, in most cases, as easy as a bucket of soapy water! The key to removing graffiti, in general, is fast action. Neglecting the issue for long periods allows the paint to "bake" into the structure, making removal more difficult.
Our Experience Working in Surrey and Langley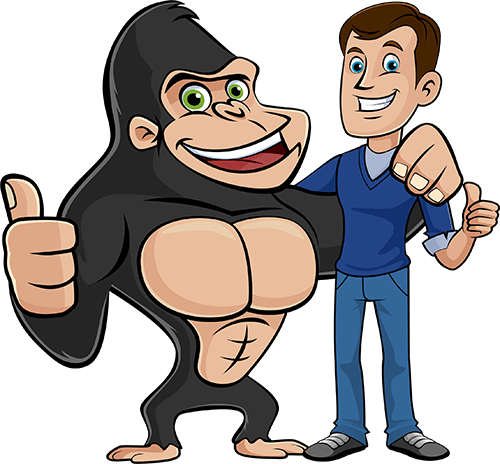 Surrey, Langley, and Maple Ridge are also busy areas of our Gorillas' routes. From Scott Road to King George Blvd, 152nd Street all the way to downtown Langley; graffiti removal makes for a demanding "Gorilla Roster". Working on a Surrey or Langley home or business can be quite challenging. The key to removing graffiti, in general, is fast action. Neglecting the issue for long periods allows the paint to "bake" into the structure, making removal more difficult.
Almost half of the graffiti cleanup carried out in Surrey and Langley involves our technicians color matching the paint, priming/prepping the area and painting over top of the graffiti that was applied. We keep that color match on file, for future use if need be.
How do the Graffiti Gorilla's do it?
Our Quality Assured Process
Every Gorilla Property Services' technician in the field has a route/area that is their responsibility. They patrol the sites on a regular basis (weekly & bi-weekly are most commonly requested) inspecting for graffiti, stickers and flyers throughout the property. If an area has been "tagged", Gorilla Property Services go to work without delay & begin the Graffiti Removal process!