Auto callouts
Strata and multi unit specialists
Salting, sanding ice melts
Before after photos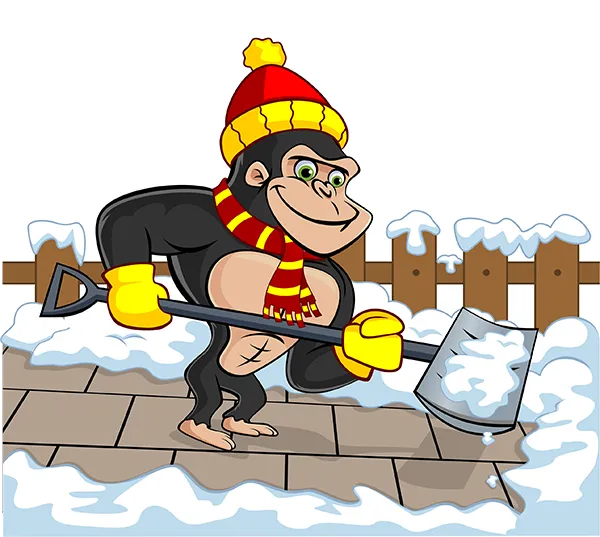 Property owners all over Canada have differing opinions about winter. Some might love it, some might hate it but there is no getting away from it! Along with frigid temperatures, winter brings in snow falls, ice patches and the need to manage snow falls and ice patches. Instead of stressing over the best way to manage your winter wonderland, call our Gorillas to do it for you. Our Milton snow removal and salting will help you keep snow out of your boots and your feet on the ground.
What Sets Our Gorillas Apart?
Two of the main reasons to outsource your Milton snow removal and salting are a lack of time or a lack of physical ability. If you do not have the time to clear away snow or do not have the manpower, call a Gorilla to make it simple. There are a lot of reasons to call a Gorilla, the least of which is a great result for your Milton snow removal and salting. So, what is the trick to our excellent results? Always being prepared! Instead of waiting to be buried in snow, our Gorillas keep ahead of storm fronts. Whether it is an upcoming snow storm or even a pattern of thawing and freezing overnight, our Gorillas know the best way to handle your residential or commercial space.
Milton Snow Removal & Salting: How We Work
Snow-free properties might look uniform, but there are many different ways to get there. The size of your property, for example, will dictate what tools and techniques are going to work best for you. Our Gorillas come equipped with shovels, ploughs, and snow blowers. With an option to fit every size of property at any given time, there is never a bad time for our Milton snow clearing and salting. The late night or early morning hours have the most common instances of snow fall and ice forming. In order to stay ahead of the game, our Gorillas need to begin treatment quickly but you don't have to worry about losing sleep! Our Gorillas are so quiet that you won't even know they are there if it were not for our brightly coloured uniforms and vehicles.