Français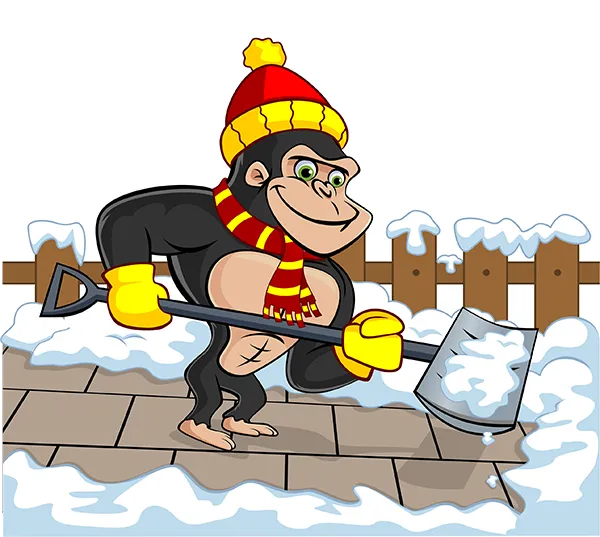 Pendant l'hiver, il n'y a aucun doute que les résidents de la région de Timmins doivent affronter une des plus grandes précipitations de neige de la province.  Le début d'une nouvelle saison encourage différents passe-temps, mais le déneigement ou le déglaçage ne devraient pas en faire partie.  Au lieu de vous pelleter un trajet parmi des montagnes de neige, laissez nos Gorilla le faire pour vous.  Peu importe la température, nos services de dégagement et de déglaçage Gorilla peuvent vous assurer une propriété propre et accueillante en peu de temps.
Planifier l'avenir
Au lieu d'attendre que les derniers flocons tombent pour planifier votre déneigement, nos Gorilla se concentrent vers l'avenir – ou du moins vers l'avenir immédiat. En surveillant les prévisions et les conditions météorologiques, nos Gorilla sont toujours prêts. Être préparé est l'une des nombreuses qualités qui distinguent Gorilla de toute autres industries d'entretien de propriété. Une fois que nous connaissons la température avenante, nous sommes en mesure de rassembler des fournitures et de proposer un plan d'attaque à nos clients.
Déneigement et déglaçage Gorilla à Timmins : Toutes propriétés, en tout temps
Les experts de Gorilla Property Services reconnaissent les besoins et les services nécessaires pour bien affronter l'hiver. Puisque nous avons des techniciens locaux qui travaillent dans votre communauté, nous avons ce qu'il faut pour prendre soin des propriétés de toutes grandeurs. Pour les espaces résidentiels, nos Gorilla utilisent des pelles ou des souffleuses à neige, tandis que des charrues sont disponibles pour les propriétés commerciales. Les services d'urgence sont également disponibles 24 heures sur 24. Si vous avez affaire à une accumulation de neige pendant la nuit, vous ne serez pas réveillés par nos Gorilla, car le déneigement et le déglaçage de Gorilla à Timmins se font discrètement. Par contre, si par hasard nous vous réveillons, vous serez en mesure d'identifier un Gorilla grâce à son uniforme et son véhicule orange fluo.
Appelez dès aujourd'hui ou réservez en ligne pour vos services de déneigement et de déglaçage Gorilla à Timmins.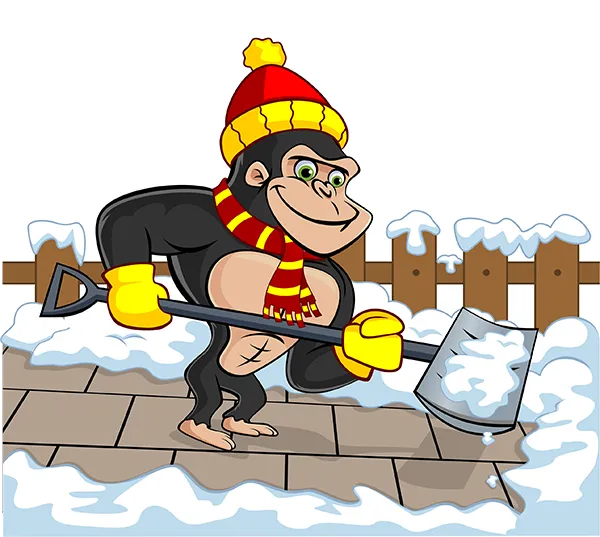 For residents in the Timmins area, it is no surprise that this community receives some of the highest snow fall in the province. Snow might usher in a brand new season with brand new hobbies but shovelling and salting shouldn't be one of them. Instead of digging your way through a mountain of snow, let our Gorillas do the excavating for you! No matter the weather, our Timmins snow removal and salting can have you property passable and welcoming.
Planning For The Future
Instead of waiting until every last flake falls to plan your removal, our Gorillas are always looking to the future – or at least to the immediate future. By monitoring incoming weather patterns, our Gorillas can be prepared for any problem areas that they might face. Being prepared is one of the many qualities that set our Gorilla apart from the pack in the property maintenance industry. Once we have an idea of incoming storm fronts or wind storms, we are able to gather supplies and come up with a plan of attack for our clients.
Timmins Snow Removal & Salting: Any Property, Any Time
The expert staff at Gorilla Property Services know better than anyone what it takes to keep a property running smoothly throughout winter. Because we have local technicians working in your community, we know what it takes to take care of properties large and small. For residential spaces, our Gorillas operate using shovels or snowblowers while commercial properties can be outfitted with plows to accommodate size. Emergency services are also available on a 24-hour basis. Even though you might be dealing with a tricky pile-up at night, you won't be woken up by our Gorillas. Your Timmins snow removal and salting is carried out quietly but if you do happen to wake up, you can always spot a Gorilla by their flashy uniforms and vehicles.