Auto callouts
Strata and multi unit specialists
Salting, sanding ice melts
Before after photos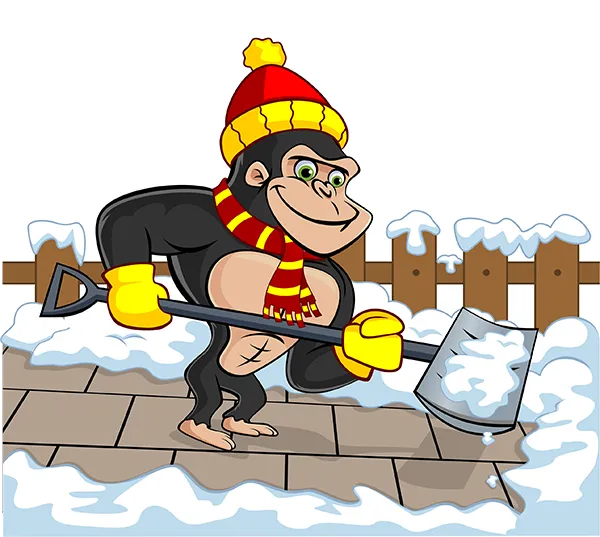 Vancouver might not be known for heavy snowfalls or frigid temperatures but that does not mean that property owners can take it easy all winter long. Proper treatment and clearing of snow and ice creates inviting environments for homes, businesses and multi-unit properties. The specialists at Gorilla Property Services use expert Vancouver snow clearing and salting techniques to create a passable space for visitors and clients.
The Importance of Regular Vancouver Snow Clearing & Salting
Owning or managing property is a full-time and often thankless job. Snow removal is more than just another daily chore, it is a safety concern. As weather on the west coast becomes increasingly unpredictable, regular and reliable snow removal becomes a necessity. In addition to curb appeal, clear pathways are a part of many city by-laws. Failure to keep snow and ice at bay can result in fines, as well as health hazards. A local, professional maintenance firm can eliminate these issues with both schedules and reactionary snow clearing and de-icing in the Vancouver area. Certain property types require a bit more service than others, but the good news is that our Gorillas can create a snow removal schedule that fits your property and its unique needs.
The Key To Successful Vancouver Snow Removal
One of the keys to a successful Vancouver snow clearing and salting, is to figure out exactly what it is that your property needs. Commercial spaces, for example, are usually much larger than those within the strata living spaces. Grabbing a shovel and clearing away a sidewalk is one thing, but tackling areas as large as a parking lot is much more involved. When you contact a Gorilla for your snow removal services, you are gaining access to both manual methods and machine treatment options. By utilizing a bit of muscle for those difficult to treat spaces and ploughs or snowblowers for the more opened areas, there is nowhere for snow to hide out or build up.
Planning Ahead
Snow might be the most obvious issue facing property owners, but ice is a real danger to both tenants and visitors. Ice can be quite visible at times, or it can come in thin black patches. Everyone knows that ice can be dissolved with ice, or at least made manageable through a bit of traction. How to get the best results one the other hand, is a bit of a grey area. Throwing down salt or sand and hoping for the best is not enough to maintain a passable outdoor space. By calling in a professional for your de-icing, experts are able to identify problem areas for melt and moisture collection. By monitoring weather patterns, our Gorillas are able to create a treatment plan to accommodate incoming storms and changing temperatures.