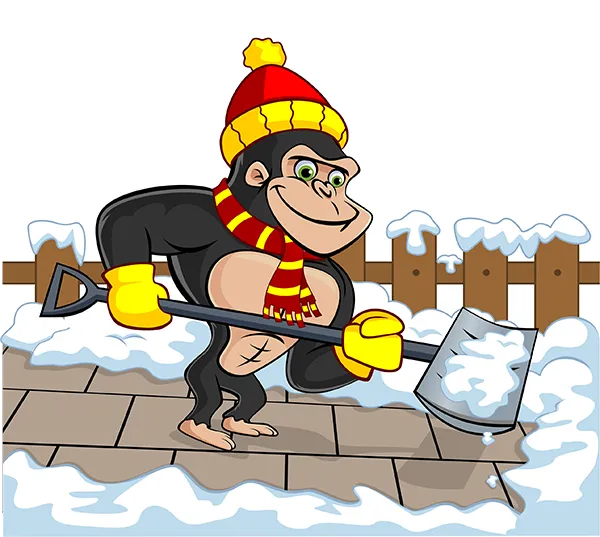 The scenic city of Vancouver is, without a doubt, one of the most beautiful in the world.  Sandwiched between the North Shore mountains and the Georgia Strait, is an abundance of year-round activities.  Living in the city definitely has its appeal.  However, winters in Vancouver can be highly unpredictable.  One thing we can be sure of is a little bit of everything from rain and wind to snow and ice.  Our Vancouver Snow Removal and Salting Service runs from December, when Vancouver usually sees its first snowfall, until March, which is typically when we see the final flakes.  Our focus is commercial properties, Co-Ops, Stratas and apartment buildings, just to name a few.  And when our friendly, knowledgeable Gorilla technicians show up to carry out our Vancouver Snow Removal and Salting Service, there are certain details you can depend on.
Salting of all common areas will take place the night prior to a predicted frost or snow warning.  We also offer Parking Lot Salting facilitated by our 'Gorilla Mobile'. Snow removal is carried out in the early hours with snow shovels or mechanical blowers.  Once the job has been completed, we send before and after photos to the property manager and/or council for future reference.  We also supply detailed monthly invoices and updates when required.
Vancouver Snow Removal & Salting: Easily Recognizable Gorillas
Our Gorillas fully trained and licensed. In addition to  professionally uniformed on all visits so as to be instantly recognisable.  In addition, all work is carried out according to WCB regulations and covered with $5 million C.G.L. insurance and WorksafeBC.  These elements, along with excellent customer service and a first-rate outcome, make up our 'Gorilla Guarantee'.